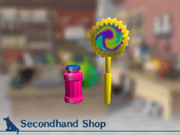 Toys are collectible items in the world of the Nintendogs series. Toys are mainly used to entertain players' dogs, and can be traded and exchanged over Bark Mode in the DS version or StreetPass in the 3DS version. Toys are not generally harmful, although some automated toys (such as the Mario Kart or the RC Helicopter) can be taken control of and used to harm/scare the dog.
Although most pups enjoy playing with toys, certain personality types are shy and may feel intimidated or frightened by some toys. Having a toy that they don't like or aren't used to thrown at them/put near them will usually result in a loss of Trainer Points and overall affection from the player's dog.
List of Toys in Nintendogs
Main article: Secondhand Shop
Nintendogs + Cats Toys
Recyclable Items (Nintendogs + Cats)
Community content is available under
CC-BY-SA
unless otherwise noted.