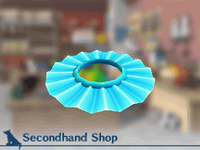 The Shower Cap is an items that falls under the category of "Sports" in the Supplies. It can be found on walks and can be used as a disc for Disc Competitions. It is easier to use than Flying Discs. The shower cap sells for $2 at the Secondhand Shop.
Strangely, it doesn't look much like a shower cap contrary to its name, mainly because of the gaping hole in the middle. Often, when thrown to dogs, they will do a frontflip in the air to catch it.
Description
Edit
DS: "This bizarre little shower cap keeps its shape, even when thrown."