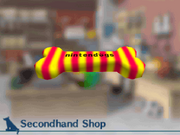 Rubber Bones are, as the name implies, rubber bones. There are four to collect in the DS versions of Nintendogs, and two are available in each version-- the White Rubber Bone and the version-exclusive bone. All of these bones have the same shape, size, in-game description, sell price, rarity, and properties, with only a color difference. Just as in real life, dogs love to chew on these toys; however, if the player throws the bone and it hits a dog, the dog will usually become scared and refuse to play with it. The best way to play with the rubber bones is to let a puppy take it from your hand. Each Nintendogs + Cats version has one Rubber Bone that is unique to it. They can be bought from the BARC shop for $4.
Version Exclusivity
Edit
Note: Rubber Bones from Best Friends mimic Dachshund while Dalmatian mimics Chihuahua. All bones sell for the same price: $1.60.
| Rubber Bone | Version |
| --- | --- |
| White Rubber Bone | All |
| Red Rubber Bone | Dachshund |
| Blue Rubber Bone | Chihuahua |
| Bicolor Rubber Bone | Labrador |
Colors (3DS)
Edit
Pink Rubber Bone: Striped white and pink
Light Blue Rubber Bone: Striped white and light blue
Even though these toys claim to be made of rubber, when a dog grabs it, it sounds as though they are grabbing crystal.
In addition to sounds, the bone makes a spring-like sound upon hitting something.
The White Rubber Bone is the only bone available in every version of Nintendogs.
The White Rubber Bone is the only rubber bone that returns in the sequel, however, the Pink-and-white-striped and Light-blue-and-white-striped Rubber Bones in Nintendogs + Cats look similar to the Bicolor Rubber Bone.