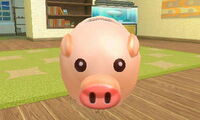 The Piggy Bank is an item found on walks. Just like the Vase, it will break if thrown, dropping your Trainer Points total. It contains $2 - $300. Surprisingly, it is only worth $2 ($5 in the 3DS version) if offered for sale in the Secondhand Shop.
Information
Edit
If broken, money will fall out. In the 3DS versions you receive a message upon the bank breaking telling you the amount earned, but in the DS versions you don't see it, but it increases your money. If you shake the piggy bank around, you can hear the coins inside of it.
Despite previous thoughts, the money attained does not coincide with the length it is thrown. The piggy bank can be dropped directly in front of the player and can still yield $50. This shows that the money dropped is random, and higher amounts can be dropped by saving, pressing the home button, and then restarting the game.
Description
Edit
DS: "This cute little piggy is full of happiness."
3DS: "This cute little piggy is full of happiness."