The Pet Supply is a store that sells various items relating to care with pets, and can be accessed once the player has taught their dog a trick in Nintendogs & Nintendogs + Cats. Those include food, drinks, and shampoo.
Only in Nintendogs, a similar place known as the Discount Store can be accessed during walks, once the dog has enough stamina. It offers a range similar to the usual Pet Supply store, only with different prices and exclusives like the Jump Rope and Keyboard.
Depending on the video game, Collars and Ribbons are sold in Nintendogs while items like Records, Lures and Toys are sold in Nintendogs + Cats.
In NintendogsEdit
The Pet Supply shop is accessible from the Shopping menu. It sells all of the basic supplies and can be accessed at any time of the day.
Available Items
Edit
Discount ShopEdit
The Discount Shop can only be accessed on walks and sells the same items at reduced prices. It also will occasionally have special items that cannot be found on walks or at the Pet Supply shop, including balloons, pull rope, jump rope and a keyboard.
The prices of the items at the Discount Shop change each visit, but they are almost always less than those at the Pet Supply shop. The walk map contains two Discount Shops.
Exclusive Items
Edit
In Nintendogs + CatsEdit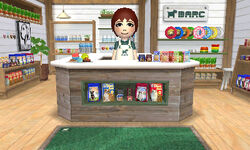 Clerk: Diane
The Pet Supply store returns in Nintendogs + Cats, and is now referred to as the BARC. It now sells extra items such as Lures, treats, cat food, cat grass, toys, and records. More items can be unlocked later in the game by obtaining Owner Points or by playing for a certain number days.
When on a walk, there is a pet supply in every route (neighborhood, downtown, seaside, and mountains), which sells items that cannot be normally found in the store accessed from the main menu.
Available Items
Edit
Icon
Item
Price
Prerequisites
Version
Water
$1
None
All
Formula
Milk

EU/OC

$3
None
All
Dry Food
$3
None
All
Wet Food
$5
Obtain 850 Owner Points
Play for 6 days or more
All
Diet Food
$5
Obtain 850 Owner Points
Play for 6 days or more
All
Premium Canned Food
Premium Tinned Food

EU/OC

$7
Obtain 5,000 Owner Points
Play for 19 days or more
All
Dry Food
$3
None
All
Wet Food
$5
Obtain 850 Owner Points
Play for 6 days or more
All
Diet Food
$5
Obtain 850 Owner Points
Play for 6 days or more
All
Premium Canned Food
Premium Tinned Food

EU/OC

$7
Obtain 5,000 Owner Points
Play for 19 days or more
All
Biscuits
$1
None
All
Biscuit Bits
$2
None
Toy Poodle & New Friends
Puppy Biscuits
$2
None
Golden Retriever & New Friends
Bone Biscuits
$2
None
French Bulldog & New Friends
Puppy Chews
$3
Obtain 2,350 Owner Points
Play for 12 days or more
Toy Poodle & New Friends
Beef Jerky
$3
Obtain 2,350 Owner Points
Play for 12 days or more
Golden Retriever & New Friends
Heart Cookies
Heart Biscuits

EU/OC

$3
Obtain 2,350 Owner Points
Play for 12 days or more
French Bulldog & New Friends
Cat Grass
$2
None
Toy Poodle & New Friends
Fish Cookies
Fish Biscuits

EU/OC

$2
None
Golden Retriever & New Friends
Fish Jerky

EU/OC

$2
None
Golden Retriever & New Friends
Natural Bristle Brush
$8
None
All
Wire Brush
$10
None
All
Rubber Brush
$8
None
All
Comb
$10
None
All
Shampoo
$2
None
All
Premium Shampoo
$3
Obtain 5,000 Owner Points
Play for 19 days or more
All
Green Leash
Green Lead

EU/OC

$16
None
All
Black Leash
Black Lead

EU/OC

$16
Obtain 2,350 Owner Points
Play for 12 days or more
Toy Poodle & New Friends
Pink Leash
Pink Lead

EU/OC

$16
Obtain 2,350 Owner Points
Play for 12 days or more
Golden Retriever & New Friends
Brown Leash
Brown Lead

EU/OC

$16
Obtain 2,350 Owner Points
Play for 12 days or more
French Bulldog & New Friends
Pink-Contrast Tennis Ball
$4
None
Toy Poodle & New Friends
Tennis Ball
$4
None
Golden Retriever & New Friends
Light-Blue Tennis Ball
$4
None
French Bulldog & New Friends
Pink Rubber Bone
$4
None
Toy Poodle & New Friends
White Rubber Bone
$4
None
Golden Retriever & New Friends
Blue Rubber Bone
$4
None
French Bulldog & New Friends
Meat Toy
$8
Obtain 5,000 Owner Points
Play for 19 days or more
All
Bell Ball
$80
None
All
Squeaky Ball
$6
None
All
Mushroom Toy
$8
None
All
Soft Cube
$6
None
All
Burger Toy
$8
Obtain 8,200 Owner Points
Play for 27 days or more
All
Soccer Ball
Football

EU/OC

$30
Obtain 8,200 Owner Points
Play for 27 days or more
All
Beach Ball
$12
Obtain 8,200 Owner Points
Play for 27 days or more
All
Red Flying Disc
$16
None
All
Green Flying Disc
$16
None
Toy Poodle & New Friends
Blue Flying Disc
$16
None
Golden Retriever & New Friends
Orange Flying Disc
$16
None
French Bulldog & New Friends
White Pro Flying Disc
$30
Obtain 2,350 Owner Points
Play for 12 days or more
All
Blue Pro Flying Disc
$30
Obtain 2,350 Owner Points
Play for 12 days or more
French Bulldog & New Friends
Pink Pro Flying Disc
$30
Obtain 2,350 Owner Points
Play for 12 days or more
Golden Retriever & New Friends
Yellow Pro Flying Disc
$30
Obtain 2,350 Owner Points
Play for 12 days or more
Toy Poodle & New Friends
Lollipop
Lollipop Disc

EU/OC

$24
None
Obtain 850 Owner Points
Play for 6 days or more
Yellow Boomerang
$10
None
Toy Poodle & New Friends
Red Boomerang
$10
None
Golden Retriever & New Friends
Blue Boomerang
$10
None
French Bulldog & New Friends
Red Lure
$16
None
All
Pink Lure
$16
None
Toy Poodle & New Friends
Blue Lure
$16
None
Golden Retriever & New Friends
Yellow Lure
$16
None
French Bulldog & New Friends
White Pro Lure
$30
Obtain 2,350 Owner Points
Play for 12 days or more
All
Blue Pro Lure
$30
Obtain 2,350 Owner Points
Play for 12 days or more
Toy Poodle & New Friends
Green Pro Lure
$30
Obtain 2,350 Owner Points
Play for 12 days or more
Golden Retriever & New Friends
Orange Pro Lure
$30
Obtain 2,350 Owner Points
Play for 12 days or more
French Bulldog & New Friends
Banana Lure
$24
Obtain 850 Owner Points
Play for 6 days or more
All
Pink Cat Wand
Pink Feather Cat Wand

EU/OC

$5
None
Toy Poodle & New Friends
Green Cat Wand
Green Feather Cat Wand

EU/OC

$5
None
Golden Retriever & New Friends
Blue Cat Wand
Blue Feather Cat Wand

EU/OC

$5
None
French Bulldog & New Friends
Dancing-Feather Cat Wand
Dancing Feather Cat Wand

EU/OC

$8
None
All
Jumping-Fish Cat Wand
Jumping Fish Cat Wand

EU/OC

$8
Obtain 5,000 Owner Points
Play for 19 days or more
Toy Poodle & New Friends
Hopping-Mouse Cat Wand
Hopping Mouse Cat Wand

EU/OC

$8
Obtain 5,000 Owner Points
Play for 19 days or more
Golden Retriever & New Friends
Flying-Butterfly Cat Wand
Flying Butterfly Cat Wand

EU/OC

$8
Obtain 5,000 Owner Points
Play for 19 days or more
French Bulldog & New Friends
Tippy Toy
$32
Obtain 8,200 Owner Points
Play for 27 days or more
All
Swordplay Record
Frantic Frolics Record

EU/OC

$30
Obtain 5,000 Owner Points
Play for 19 days or more
All
Up in the Clouds Record
$30
Obtain 8,200 Owner Points
Play for 27 days or more
All
Surprise Beat Record
$30
None
All
Classics 1: The Flea Waltz Record
$35
Obtain 8,200 Owner Points
Play for 27 days or more
All
Classics 5: Skaters' Waltz Record
$35
None
All
Neighborhood Store
Edit
Clerk: Sally
Icon
Item
Price
Prerequisites
Version
Classics 4: Csikos Post Record
$35
None
All
Windup Miss Chickie
Wind-Up Miss Chickie

EU/OC

$8
None
All
Windup Sir Nibbles
Wind-Up Sir Nibbles

EU/OC

$8
None
All
Windup Mr. Froggins
Wind-Up Mr. Froggins

EU/OC

$8
None
All
Beige Bucket Hat
$16
None
Toy Poodle & New Friends
White Bucket Hat
$16
None
Golden Retriever & New Friends
Black Bucket Hat
$16
None
French Bulldog & New Friends
Business Glasses
$20
None
All
RC Mario Kart
Mario Kart

EU/OC

$30
Obtain 5,400 Owner Points
Play for 20 days
All
RC Peach Kart
Peach Kart

EU/OC

$30
Obtain 5,400 Owner Points
Play for 20 days
All
RC Yoshi Kart
Yoshi Kart

EU/OC

$30
Obtain 5,400 Owner Points
Play for 20 days
All
Diamond Collar
$1500
Obtain 10,600 Owner Points
Play for 33 days
All
Platinum Collar
$1500
Obtain 10,600 Owner Points
Play for 33 days
All
Glitzy Collar
$1500
Obtain 10,600 Owner Points
Play for 33 days
All
Glitzy Collar
$1500
Obtain 10,600 Owner Points
Play for 33 days
All
Downtown Store
Edit
Clerk: Raymond
Seaside Store
Edit
Clerk: Jessica
Icon
Item
Price
Prerequisites
Version
Classics 2 Record
$30
None
All
Hibiscus Lei
Hibiscus Flower Lei

EU/OC

$14
None
All
Purple Pearl Bow
Red Purple Pearl Bows

EU/OC

$60
None
All
Green Pearl Bow
Red Green Pearl Bows

EU/OC

$60
None
All
Red Cap
$15
None
Toy Poodle & New Friends
Yellow Cap
$15
None
Golden Retriever & New Friends
Black Cap
$15
None
French Bulldog & New Friends
Straw Hat
$12
None
All
Black Pearl Necklace
$200
Obtain 5,400 Owner Points
Play for 20 days
All
Viking Hat
$70
Obtain 5,400 Owner Points
Play for 20 days
All
Origami Hat
$24
Obtain 5,400 Owner Points
Play for 20 days
All
Royal Heirloom Necklace
$1,000
Obtain 10,600 Owner Points
Play for 33 days
All
Tiara
$1,000
Obtain 10,600 Owner Points
Play for 33 days
All
Crown
$1,000
Obtain 10,600 Owner Points
Play for 33 days
All
Mountains Store
Edit
Clerk: Archie
Icon
Item
Price
Prerequisites
Version
Classics 3: Maple Leaf Rag Record
$30
None
All
Camo Collar
$13
None
All
Red Japanese-Print Collar
Red Japanese Print Collar

EU/OC

$18
None
Toy Poodle & New Friends
Green Japanese-Print Collar
Green Japanese Print Collar

EU/OC

$18
None
Golden Retriever & New Friends
Blue Japanese-Print Collar
Blue Japanese Print Collar

EU/OC

$18
None
French Bulldog & New Friends
Feathered Green Hat
$32
None
All
Feathered Purple Hat
$32
None
All
Pointy Hat
$32
None
All
Fringed Leather Collar
$45
Obtain 5,400 Owner Points
Play for 20 days
All
Brown Safari Hat
$50
Obtain 5,400 Owner Points
Play for 20 days
All
White Safari Hat
$50
Obtain 5,400 Owner Points
Play for 20 days
All
Gold Bar
$9999
Obtain 10,600 Owner Points
Play for 33 days
All
Chef's Scarf
$27
Obtain 10,600 Owner Points
Play for 33 days
All
Chef's Hat
$28
Obtain 10,600 Owner Points
Play for 33 days
All
Nintendogs
Edit
Nintendogs + Cats
Edit