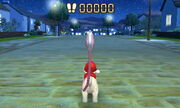 The Pedometer is a feature introduced in Nintendogs + Cats and replaces Bark Mode from the predecessor. When the Nintendo 3DS is carried while walking or running, the steps are counted. For every 100 steps the player takes, they will receive a Play Coin and the data will be stored in their Activity Log.
Up to 10 Play Coins can be only earned a day and 300 Play Coins can be stored in total. Therefore, at a rate of 1,000 steps per day, it would take 30 days (approximately one month) to reach the maximum amount of Play Coins.
Overview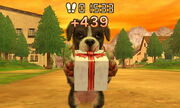 When going on a walk and using a Pedometer, the Nintendo 3DS must be closed. The handheld console will calculate how many steps are taken and the dog will be able to find a gift. To get the gift, the Nintendo 3DS must be opened up and the dog will find a Present. Afterwards, the player can close the 3DS again and take some more steps or go back to the main menu. However, the quality of the present will depend only on the additional steps the player can take.
Depending on how many steps the player has walked, the rarity and quality of the Present will increase. For example, if the player has walked over ten-thousand steps, they'll receive a rare accessory that cannot be found until later in the game, or without having to save up any money.
As the number can be dependent single digits, the player can get multiple pieces of biscuits; one such example is 97 steps, which they'll get sixteen pieces of Biscuits.
Pedometer Gifts
The following list is a complete list of items that can be found when using the Pedometer.
Icon
Item
Selling Price
Steps
Biscuits
$1
10-99 Steps
Fish Cookies
Fish Biscuits

EU/OC

$1
100-999 Steps
Beef Jerky
$2
100-999 Steps
Bone Biscuits
$2
100-999 Steps
Heart Cookies
Heart Biscuits

EU/OC

$2
100-999 Steps
Biscuit Bits
$2
100-999 Steps
Cat Grass
$2
100-999 Steps
Wooden Stick
N/A
1,000-1,999 Steps
Leather Key Ring
N/A
1,000-1,999 Steps
Rubber Tire Chunk
Rubber Tyre Chunk

EU/OC

N/A
1,000-1,999 Steps
Plastic Bottle
N/A
1,000-1,999 Steps
Credits to [ http://www.thonky.com/nintendogs-+-cats/pedometer-gifts/ ]
Gallery
Trivia
If the Journal isn't set up, players cannot access this feature, as it requires StreetPass.
This is the only way to obtain version-exclusive cookies outside of their version (for example, Biscuit Bits in the Golden Retriever & New Friends version).
If you are in the Pedometer mode, press the home button and you will see how many steps you took. If you close your 3DS and gathered steps, you can re-open it and see how many more steps you took without obtaining a gift. This technique can be done to collect a precise amount of steps and/or acquire a higher-level gift by doing this over time.