In late 2007, thanks to the success of the Nintendogs franchise, toy manufacturer TOMY started producing merchandise based off of the video game. They were first sold in the United Kingdom and some other parts of Europe and expanded into the United States.
They were discontinued around mid-2010.
List of Nintendogs Merchandise
Bark Back Playful Pups
The Nintendogs Bark Back puppies are interactive plush toys that shake their head, wag their tail, and bark when spoken to. This toy line includes the Beagle, Dachshund, Cavalier King Charles Spaniel, Chihuahua, Jack Russell Terrier, Miniature Pinscher and Pug.
Bean Toys
Nintendogs Bean Toys are a series of plush bean-bag Nintendogs with scarves and sound buttons in their ears.
Cuddly Pups
Dressables
As the name implies, Nintendogs Dressables are stuffed Nintendogs which came with clothing accessories.
Enterplay Trading Cards
Main Article: Trading Cards
Howl with Me Pup
The Nintendogs Howl with Me Pup is a long stuffed dog which lays on its stomach. Each of these toys has a button in their paw which causes them to vocalize like a real howling dog.
Mini Pups
The Mini Pups are a line of smaller stuffed animals. Unlike the Bean Toys, they have soft, plush pelts, and are stuffed with polyester.
Pet & Play Pup
The Pet & Play Pup is a reclining dog designed to be responsive to stroking on its head and back by barking and wagging its tail. This toy line includes the German Shepherd, Pembroke Welsh Corgi, and Siberian Husky.
Petit Dogs
Nintendogs Petit Dogs are small, remote-control vinyl dogs based on the breeds available in the game.
Puppy Playmates
The Puppy Playmates are stuffed dog breeds, similar to the original Trick Trainers in that the owner can use a magnetic bone to make the puppy do tricks. The Puppy Playmates are supposedly more limited in motion, but were packaged with an additional frisbee that the Trick Trainers lack, which the puppy will magnetically "catch" when thrown to. The Playmates also include new breeds which were not featured as original Trick Trainers, such as the Shetland Sheepdog.
Trick Trainers
Main Article: Trick Trainers
Tug & Play Pup
The Tug & Play Pup is a standing toy resembling a dog, which comes with a rope in its mouth. When the rope is tugged, the toy is designed to growl and shake its head, and will wag its tail playfully.
Nintendogs + Cats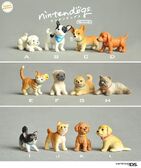 Merchandise was also in development for Nintendogs + Cats, including small figurines with dogs and cats from each of the three titles.
Commercials
Trivia
It would seem that many of the licensed Nintendogs products with electronic components are modeled after the FurReal Friends line of animatronic toys, produced by Tiger Electronics (under ownership of Hasbro).

The Tug & Play Pup, for example, shares many similarities to the Tuggin' Pup (2007). Both products were released the same year.