The Interior Decorator is a real estate service that sells several house makeovers (and furniture in Nintendogs + Cats) and can be accessed from the Shop menu.
Nintendogs
The Interior Decorator can be accessed by pressing the bottom left button on the "Go out" screen.
Each version of Nintendogs starts with one of these houses as the default house. Like for example, Dachshund and Friends starts out with the Ranch House, making it free for that versions as would any other house that had been previously purchased. The default houses from other versions can be unlocked through Trainer Points or by doing Bark Mode with a player who has that version of the game.
Also, once the player buys the house, they cannot enter the Interior Decorator again until the house remodelling is finished, which can take one to two real-time days.
There are a total of nine (eight in the Japanese version) house models in Nintendogs. The most expensive is Outer Space and the cheapest is the Designer Condo.
List of Interior Designs
Japanese Version
Icon
Item
Price
Prerequisites
Version
Designer Condo
250,000¥
None
All
Early American
500,000¥
None
All
Urban Living
750,000¥
None
All
Northern European

2,500,000¥

20,000
35,000
All
Ranch House

2,500,000¥

20,000
35,000
All
Tatami Room

2,500,000¥

20,000
35,000
All
Desktop
10,000,000¥
6,000
All
Outer Space
30,000,000¥
12,000
All
International Versions
Icon
Item
Price
Prerequisites
Version
Designer Condo
$500.00
None
All
Early American

$1,000.00

None
All
Urban Living

$1,500.00

All
Northern European

$5,000.00

All
Ranch House

$1,500.00

All
Tatami Room
$5,000.00
All
Desktop
$10,000.00
6,000
All
Seaside

*

$50,000.00
12,000
All
Outer Space
$100,000.00
18,000
All
Nintendogs + Cats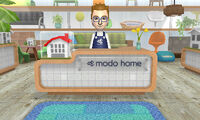 In Nintendogs + Cats, the Interior Decorator is called Modo Home. In addition to selling houses, the Interior Decorator also sells furniture. Cody (NTSC) / Thomas (PAL) is the clerk. There is a total of 9 houses that can be bought but unlike the previous game, it doesn't take real-life days for the house to be remodeled.
Houses
Furniture
Community content is available under
CC-BY-SA
unless otherwise noted.