Jurassic World: Dominion Dominates Fandom Wikis - The Loop
Play Sound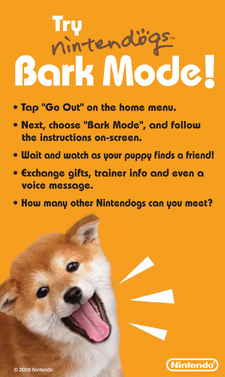 Bark Mode (Japanese: すれちがい通信 Surechigaitsūshin) is a feature in Nintendogs that allows players to communicate with other players via the Nintendo DS's wireless communications. The game includes a manual explaining how to use Bark Mode in the Care category of the player's Supplies.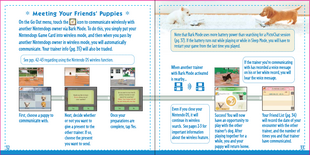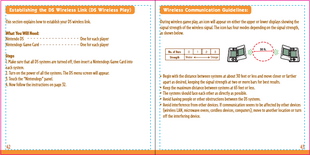 Features
Connecting Nintendo DS systems through Bark Mode allows one to play with another player's puppies, listen to a friend's White Record recording, and exchange friend information. Using Bark Mode gives a present to each player if the player decides to bring one of their supplies with them.
After the DS manages to exchange information with the other one, wireless communications automatically turn off, so the player can play with someone else's puppies as long as they like.
Bark Mode is not suitable for long-distance communication and can only interact with people in a maximum 60 foot radius. This is because it does not use internet to facilitate the interaction between players, but a certain type of Wi-Fi (also used in the software Pictochat) known as LAN (Local Area Networking). Similarly to a router or modem, the DS can provide its own signal, which is limited to a small geographic range.
Setting
Bark Mode has its own special location for puppies to interact in. The Bark Mode room appears to be a park with stone tiling, a couple of green trees, and a lake. If a RC Helicopter is used, it may be possible to see a red/orange caboose.
It is presumed that the setting for the Bark Mode is on an uncrowded bridge.
Trivia
Bark Mode might have been a very early precursor what would later become StreetPass on the Nintendo 3DS.
The present with the blue ribbon (if one of the communicators sends one of their supplies) looks exactly like cat presents in Nintendogs + Cats.
The Japanese version of Bark Mode will not work with European, American, Australian and Korean versions of the game, as they contain content that cannot be obtained in the Japanese version. (ex. Dalmatian, New Years Eve Tiara.)

A similar thing happens, as the Chinese version can only communicate with Chinese iQue DS and iQue DSi systems.
If the Nintendo DS is closed, the player's dog and the dog it found will bark.