The Agility Trial (Japanese: アジリティ大会, Ajiriti taikai) is an obstacle course in Nintendogs. There are 5 levels of competition in the trials: Beginner, Open, Expert, Master, and Championship. This contest was replaced by Lure Coursing in Nintendogs + Cats.
Objective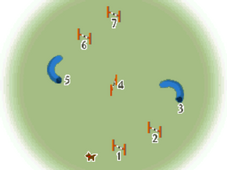 The player must guide their dog through the obstacles in the order displayed on the top screen map as quickly as possible. The agility trial will have a similar, but different map from the training course in the gym. To pass to the next rank, the player needs to finish by the time limit and keep their faults to a minimum.
Scoring
The standard time is the given amount of time to complete the course, the time limit is the maximum amount of time for a dog to pass. The standard time and the time limit may change randomly (e.g. Beginner time limit's can be 38.26 seconds or 39.41 seconds).
Any time a dog messes up on the obstacle course they will be deducted by 5 points. This includes mistakes such as knocking down a hurdle or completing the obstacles in the wrong order. The amount of fault points allowed changes with each course.
Whenever the player places at least third place in a contest they will earn money. For each class, the amount of money won increases.
Course
Standard time
Time limit
Fault Points Allowed
Money Earned
Beginner
40 or 50 seconds
10 or 15 points
$100 for first place
$50 for second place
$30 for third place
Open
50 seconds
10 or 15 points
$200 for first place
$100 for second place
$60 for third place
Expert
60 or 65 seconds
5 or 10 points
$300 for first place
$150 for second place
$90 for third place
Master
60 seconds
0 or 5 points
$600 for first place
$300 for second place
$180 for third place
Championship
70 seconds
0 points
$1000 for first place
$500 for second place
$300 for third place
Practice
Before the player can enter a dog in a Beginner Class course, they must first take the dog to the gym at least once. The gym can be found to the bottom right of the walk screen. The course inside the gym will change according to the dog's rank.
When a dog first sees an obstacle, they will be scared and cautious. The only way to get a dog accustomed to this is through constant practice. Eventually, a dog will be able to do almost everything automatically with next to no flaws.
With each upgrade in rank there will be a bigger diversity of obstacles to complete. There are hurdles, long-jump hurdles, tunnels, see-saws, and weave poles.
| Obstacle | Trial | Good Outcome | Bad Outcome | Image |
| --- | --- | --- | --- | --- |
| Hurdles | Automatically unlocked. | Tap repeatedly on the obstacle for the dog to jump over. | The player's dog jumps at the wrong time or jumps at the wrong place. | |
| Long-jump hurdles | Introduced after Beginner Class. | Tap repeatedly on the obstacle for the dog to jump over. | The player's dog jumps at the wrong time or jumps at the wrong place. | |
| Tunnels | Automatically unlocked. | Guide the dog throughout the tunnel by repeatedly tapping the stylus throughout the obstacle. | The dog pauses in the middle of the tunnel or runs out the way it came. | |
| See-saws | Introduced after Beginner Class. | Guide the dog to the end of the see-saw and stop the dog before it reaches the end. When the see-saw tips over, let the dog move off of the see-saw. | The dog exits the see-saw at any other place other than the end or the dog gets off the see-saw before the see-saw has come down. | |
| Slalom poles | Introduced after Open Class. | Guide the dog between the poles to the end of the obstacle. | The dog quits the poles part way through. | |
Gallery